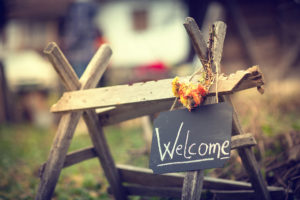 Paint Rock Farm is the culmination of decades of work and planning resulting in a "dream come true" project for me. I have always found Nature outdoing man when it comes to creating the most beautiful environments to celebrate our lives. When I discovered PRF nearly 12 years ago I instantly knew I was fortunate to have discovered a real jewel in Western North Carolina! Bordered by the French Broad River on one side, tucked up against National Forest on the other, and with 360 panoramic views of additional national forest in every direction, PRF is a place that reminded one of another time when life was simple, beautiful, and peaceful. It is quite a surprise when you turn off Paint Rock Road and after coming up the driveway you find yourself landing on a vast expansive level field , a rare commodity in the steep mountain terrain of WNC. To the west of this gentle field lies 112 acres of mature forest , Canoe Creek , and miles of trails. As a conservationist one of my main goals was to protect the integrity of the forest so in 2010 my current partners and I placed the entire forest into a conservation easement with Southern Appalachian Highlands Conservancy, forever protecting the forest as well as the view shed as this property can be seen from many area hiking trails including the Appalachian Trail. I consider many possible options for the land after that including an organic farm, a vacation rental business, or a sustainable development. I tried many, many, land plans that divided it up in different ways but every time I saw survey lines cutting up this remaining 40 acres of wide open beauty it would never feel right. I began to bring several people I trusted and admired to the property over time and listened to what they saw and said about the property. I received a variety of answers and two of them were Glamping Resort, another weddings, and one friend pointed out to me what an extraordinary barn we had and saw it as a main asset.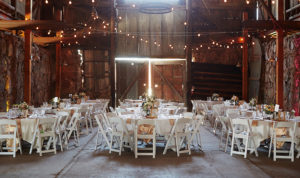 I had not really understood the value of the barn at that point! It took another couple of years for all this great advice to sink in and then as it did I was fortunate to have my best friend, Chis Nelson, from all the way back in high school come in and buy out my existing partner. A friend who was completely aligned with my goals of sustainability , protecting this amazing land , and creating a place where people can come to celebrate their lives in the " Cathedral of Nature" and find solace from their busy lives. In addition, my wife Allison Smith is am amazing designer and creates beautiful spaces wherever she goes. Then remembering I am also an Ordained Minister and facilitate weddings… Sometimes the obvious is right in front of you.
As we began to look it seemed very clear right away that the history of the land could dictate the name. The state road leading to the farm was already named Paint Rock Road. There is a very famous petroglyph directly across the river from us as well named Paint Rock and the final clincher was discovering that Paint Rock was named after one of the Cherokee Clans. As it turns out this Clan was the Clan that were the healers and shamans of the Cherokee Nation. What a perfect fit for our intentions for this land!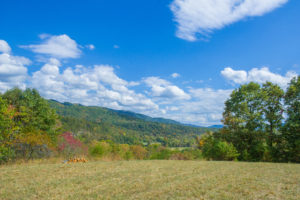 Now we are able to proceed by building a beautiful new entrance road and restoring the historic former tobacco barn. As we began to tear down some old sheds and other things around the barn we realized we had a real jewel. As good fortune would have it the nephew of the man who built the barn in 1950 was available to undertake the renovation of the barn. Soon we had removed some of the interior poles opening up the space beautifully and then a new pine floor was installed ready for dancing! A room for caterers to set up and a large covered entrance deck was added. Now there are 3200 sq feet of interior space , a 560 sq foot  covered deck , and an adjoining grass terrace with expansive views of the French Broad River.
Outside the barn there are more options to choose from to have a the backdrop for your special occasion than you can imagine. The terrace directly by the barn and overlooking the river. Two areas have been developed so far in the field, one a terrace to the East overlooking the French Broad River and the broad valley leading to Hot Springs and the second on a wedding circle to the Northwest with views of Paint Rock itself and completely undisturbed views of the rising mountains. In addition, a favorite site for many will be out in the fields with the majestic pyramid shape of Round Mountain rising to the South as a backdrop.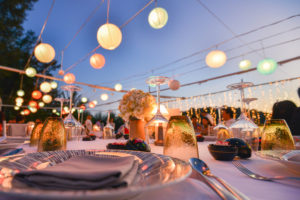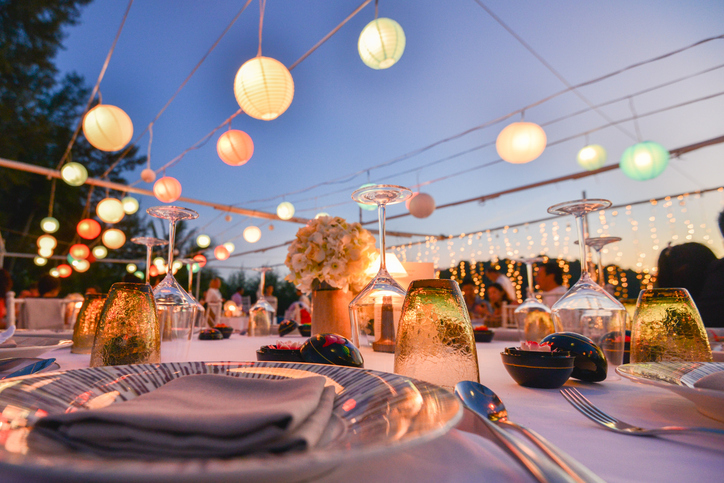 So here is what we currently have to offer to you at Paint Rock Farm!  A most majestic and unspoiled view as can be found in WNC, a huge barn lovingly renovated for your successful event in any weather, privacy and solitude beyond compare, and unlimited grounds for you and your guests to camp or "Glamp" together while you celebrate. Imagine everyone safely spending the night at your event enjoying campfires and lulled to sleep by the sounds of nature. Miles of hiking trails await their enjoyment. Hot Springs is only 6 miles away! How about booking all the tubs for your guests to enjoy  a soak in the soothing mineral springs, or a rafting trip on the French Broad River. Think how special it would be not only for your guests to celebrate your marriage but to also get a much needed weekend getaway from their busy lives! In addition, as I have been an avid gardener for over 30 years you will find more flowers growing all around the farm than you cam imagine!
If you are looking for an event space in Nature and Beauty ,we look forward to providing you the most memorable event you can imagine at Paint Rock Farm!
Warmly, William
Save
Save
Save
Save